Annual Kabbalah Spirituality Day
30/05/2010
Eastern Suburbs, Sydney
Annual Kabbalah Spirituality Day
Sunday 30th May

A refreshing day of diverse sessions of Kabbalah spirituality was had by all, including yoga, tai chi, chai gung, meditation, relaxation, text study, discussion, story telling, massage workshop, music, chanting and meeting special people.
Spirituality Day Schedule

Time
Session
Presenter
10:00am

Nadav Kahn
Registration & Music & Anna Hirst

10:15am
Sefirot (chakra) Yoga
Alla Melman
Story Telling - How to be Divinely Human
Donna Jacobs Sife
Self Awareness and the Eneagram
Immanuel Suttner
11:15am
Kabbalah Sound Healing
Judy Kater &
Orna Triguboff
Kabbalah Tai Chi: Awakening Spinning Wheels
Gad Levy-Golan
Seated Massage Workshop
Nathan Jacobs
12:15pm
Lunch
1:15pm
Meditation on the Lotus of the Heart
Ian Mansell

Angel-Human Connection:
text study

Orna Triguboff
Inner Child, Mother Letters and Art
Sande Bruch
2:15pm
Closing meditation, Chanting and Chai Gung movement
Nadav Kahn &
Ben-Zion Weiss
Click here to download program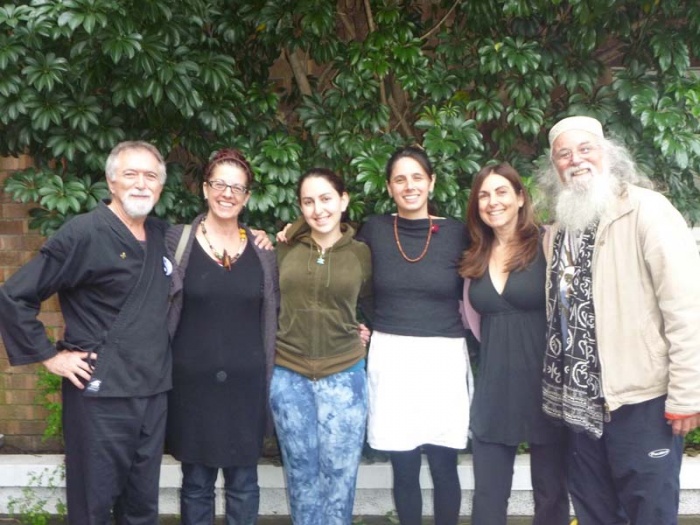 Kabbalah Spirituality Day Facilitators" width="330" height="225" />
A vegetarian lunch will be provided.
Date: Sunday 30 May
Time: 
10am - 3pm
Location: Eastern Suburbs, Sydney
Earlybird price: $30
before 28 May
Price at the door: $40

Bookings & Information
: (remove XX) info XX @neshamalife XX .org

Session Descriptions

Jewish Yoga - Exploring the sefirot through movement
with Alla Melman (physiotherapist and yoga teacher)
Combining the wisdom of classical yoga poses & meditation techniques with Jewish spirituality and the teachings of Jewish mysticism.
A movement session exploring the energy centers (chakras or sefirot) in the body through asana, breathing exercises & visualisation techniques.
Come stretch, breathe, relax and reinvigorate your spiritual practice.
Story Telling - How to be Divinely Human
with Donna Jacobs Sife (story teller and interfaith educator)
This session is an immersion into a small selection of the Tales of the Hasidim - the classic text of Martin Buber's - designed to awaken creativity, engage the spirit and deeply listen to the whisperings of our soul. These enigmatic tales, which transmit the essential theology and psychology of Jewish mysticism - teach us how to be divinely human. They are deeply Jewish, and yet universal. Paradoxical, sustaining, troubling and enlightening. They require space for the soul to peel away the layers, and to reveal the spark within.
Self awareness and the Eneagram
with Immanuel Suttner (writer and poet)
There have always been movements within Judaism which have encouraged self-awareness, and indeed, seen an understanding of the Self as vital. The Gaon of Vilna said " serving the Divine is dependent upon tikun hamidot - upon self mastery."
One useful vehicle for self awareness is the Enneagram, a nuanced system which categorises people into nine different personality types. The nine personality types of the Enneagram are not static categories: they reflect our changes over time.
No type of the nine is better or worse than another - only different. Each type is blessed with particular gifts, and each type has to struggle with particular areas of difficulty. In addition , each type has a healthy, average and unhealthy manifestation.
The Enneagram has been used both by Hollywood scriptwriters and by seekers to deepen their understanding of both self and other. Immanuel will introduce participants to the nine different personality types, and explore the way the different types impact on, and modify, each other.
For more about this aspect of the Eneagram see the book Awareness by orthodox psychologist Miriam Adahan, which is available at http://www.adahan-online.com/index.aspx?id=2478.
Kabbalah Sound Healing
with Judy Kater (yoga teacher, sound healer) and
Orna Triguboff (Kabbalah teacher)
A down to earth presentation of how to use kabbalistic teachings for meditation and relaxation. This is combined with the harmonic healing sounds of chimes, bells and Himalayan bowls. Come and enjoy this truly unique experience. You will feel energised and de-stressed.
Kabbalah Tai Chi: Awakening Spinning Wheels
with Gad Levy-Golan (tai chi master instructor and author)
Sefirot, Chakras and Dantiens:
Gad Levy-Golan, the Author of the new book, THE KEY TO QI will take us through the fundamentals, theory and practice of Qi.
Through various spiraling energy patterns, you will develop an understanding of harnessing your Qi, and cultivating it in energy centres.
Together we'll explore the notion of a Chakra, Dantian and Sefira being a spinning wheel as we activate them and examine how they can benefit our body and mind, relief stress and promote circulation through our energetic system.
Seated Massage Workshop
with Dr. Nathan Jacobs (M.D. and massage therapist)
Take a fun & relaxing massage break! Working in pairs, fully clothed, you will learn, practice and receive a head, neck and shoulder massage, based on safe, simple Swedish and Remedial Massage techniques. A great way to recharge your batteries!
Meditation on the Lotus of the Heart
with Ian Mansell (chi gung and yoga teacher)
This session comprises a relaxed vinyasa followed by Dharana on the Anahata Chakra with reference to the heart centre of the Kabbalah: Tiferet. The session will be experiential rather than a detailed lecture on the 'crossover' between Kaballa and Tantric Yoga. The postures do not require any serious Yogic ability and are included in a gentle flowing process based on the work of T.K.V. Desikachar.
The Angel-Human Connection
with Dr. Orna Triguboff Ph.D. (Kabbalah teacher)
In this session we will immerse ourselves in an ancient text about how we humans connect with angels and how they connect with us. They bring us messages, send love and compassion, heal us, rejuvenate us during sleep and more. We will finish the session with a short meditation.
Inner Child, Mother Letters and Art
with Sande Bruch (artist and meditation teacher)
Painting, Drawing and Collage:
In this session, we will look at The Three Mother Letters, Aleph, Mem and Shin; these letters represent the three Souls of a person's inner constitution and are vital to health and wellbeing.
We will use meditation, visualisation, sound and movement, connecting to our inner child and the three Mother letters, using painting, drawing and collage.
Chai gung
with Dr. Ben-Zion Weiss (Ph.D. and social ecology educator)
Chai Gung, created by Dr Ben-Zion Weiss, blends together the practices of Chi Gung, Do In, Yoga with the Sephirot from the Kabbalistic Tree of Life. The movements encourage the energy of the universe, Chai, to flow more freely through the sephirot. This movement meditation is healthful, balancing, grounding and centering.
Downloads: