The Facilitators
Dr. Orna Triguboff is the founder and principal facilitator of Neshama Life. She carefully selects experienced and talented presenters to collaborate on each event.
In this way, Neshama Life continues to produce original and creative events that inspire.
We proudly introduce the main contributors to Neshama Life courses:
Ian Mansell

Merav Carmeli
Nathan Wolski


Judy Kater
Passionate about the value of self care, Judy Kater founded the Relaxation Project to balance out the pace of busy lives and promote health and wellbeing.
Based in Sydney Australia, Judy has over 20 years of experience and professional training in Yoga, Meditation, Harmonic Sound Healings, Wholistic Counselling, Life Care Coaching, Creative Visualizations and Healthy Lifestyle Education. Judy also lectures at Nature Care College.
(remove XX) judy XX @relaxationproject XX .com
Gad Levy
Gad Levy is an internationally qualified Tai Chi and Qigong Master-Instructor. He began practicing Zen Tai Chi Do in Jerusalem, in 1982.
He is a disciple of the Late Grand Master Sifu Kenny Gong of New York.
Gad is also the founder of Life In Motion, a Qigong and Healing Energy Academy, as well as a certified coach by both the Australian Sports Commission and the Wingate Sports institute in Israel. He is the author of the new book "The Key to Qi", and also a DVD series of Internal Energy for Healing and strengthening.
In Israel, Gad created and hosted a TV series called Wings, a morning Tai Chi TV Magazine for awakening and energizing the body mind and soul.
He has a Masters Degree in Media Management from the New School University in NY, and is dedicated to the integration of Body mind practices with Jewish Spirituality. During the last 10 years Gad has been experimenting with the synthesis of Tai Chi and Chi Gong with Jewish prayer.
Visit Gad's Life in Motion website
Nadav Kahn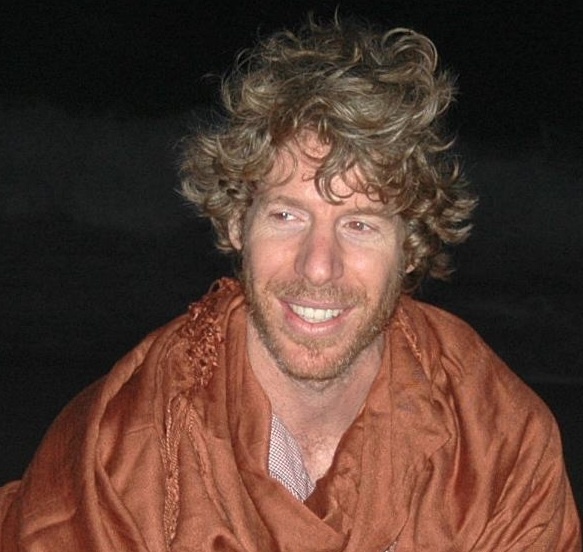 Nadav was born in Israel and grew up in kibbutz Y'Izrael for most of his childhood, later moving to Haifa. He migrated to Australia at 14 years of age. Nadav and his brother Edo founded the art rock band GELBISON, releasing two critically acclaimed records, "1704" and "See The World" (2004) with Virgin/Emi.
Since then, Nadav has collaborated with various artists in Australia and abroad. From these collaborations came the band NATIONS BY THE RIVER, releasing the album "Holes in the Valley" (2004), and the collective OPERATION ALOHA, releasing their debut "Operation Aloha" (2009). In 2006, Nadav and his brother formed the KAHN BROTHERS and released the record "Love Melts Fear" (2008). In 2009, Nadav won an APRA Music Award for song of the year in the blues and roots category for co-writing & producing the OLD MAN RIVER song "Sunshine".
For the past 5 years, Nadav has spent much time in India learning and recording devotional music, Vedic chants and Sanskrit mantras. With this came an integration with Judaism, bringing Hebrew prayers and Jewish wisdom into Kabbalah meditation music.
Nadav now facilitates the Kabbalah Music Circles along with Orna Triguboff, as well as presenting at other Neshama Life events.
Nadav is also currently working on several music projects in Sydney and in the United States, including an innovative new collaboration being produced by Neshama Life, to be released late 2010.

Alla Melman
Alla Melman is a practicing physiotherapist and yoga teacher. She regularly teaches yoga therapy classes and anatomy for yoga teachers.
She has been involved in the Jewish Renewal community for 6 years, assisting with meditation and yoga events. She is also active in the young adult Jewish community, helping run Kabbalat Shabbat services and other social events.
Alla did her Yoga teacher training at Rose Bay Yoga school, a Hatha yoga style with influences from Iyengar, focusing on yoga therapy and adapting to the individual's need. She is passionate about the synthesis of Western and Eastern Philosophy, and finds there is much to be gained from the practice of "Jewish Yoga", a synthesis of Kabbalistic tradition, meditation practices, breathing techniques and gentle movement. It is an opportunity to connect with the body, mind and neshama.
Ian Mansell
Ian Mansell has practised yoga for over 50 years. Personal training with the late Acharya Upendra Roy. Completed the International Yoga Teachers Association Teaching Course in 1977. Institute of Yoga Therapy preliminary certificate 1995. Managing Director, the Sydney Yoga Centre, ran and taught Teacher Training for that organisation in the mid ninteties. Has studied various martial arts, notably Aikido under Master Sagano. Started "Yoga with a Jewish twist" at Emanuel in 2004 and been active in teaching yoga to major companies and professional practices in Australia.
back to top
Sue Beecher
Sue is a registered psychologist and social worker with a masters degree in social work. She has worked as a counselor and therapist, community health worker, management trainer, workshop presenter, group facilitator, university lecturer in social work and in medicine, p ublished author, executive coach and meditation teacher.
Sue's passion lies in helping people to connect more deeply with themselves and others, and discovering how to live authentically and consciously. This includes herself.
Sue has over 30 years' experience teaching communication skills, personal development, self awareness, meditation, spiritual growth and healing.
Since the early 1980's Sue has studied, written, and given talks about Judaism and current issues, and has long been working to integrate her Jewish identity and her spiritual development. A member of the Inner West Chavurah, Sue led meditations based on the Torah portion in a Spirituality Group for over four years.
Sue teaches meditation, working with individuals and groups at the Goodwill Relations Centre in Rozelle in Sydney's inner west. She also runs workshops and leads retreats.
Ben-Zion Weiss
Dr. Ben-Zion Weiss is a community educator in social ecology, meditation, yoga, drama, ESOL, cross-cultural conflict and non-violence training. He teaches at UWS, consults for NSW DET Multicultural Programs. His PhD research is on anti-racism drama based learning and developing a theory of an ecology of culture. He facilitates workshops for youth workers, teachers, community workers, leads Dances of Universal Peace and facilitates dialogues in spiritual ecology.
Merav Carmeli
Merav Carmeli is manuscript editor for the Zohar: Pritzker Edition.
She has been teaching Zohar for many years. Recently, she was the chief convenor of a major Zohar conference held in Prato, Italy 2009 and is currently editing the proceedings of the conference.
back to top
Nathan Wolski
Nathan Wolski is a lecturer with the Australian Centre for Jewish Civilisation, Monash University. He is the translator of Melila Hellner-Eshed's celebrated work, A River Flows from Eden: On the Language of Mystical Experience in the Zohar. His book, A Journey into the Zohar: An Introduction to the Book of Radiance will be published by SUNY Press in 2010.
back to top