Kabbalah Tour of Israel
04/01/2015

Land and Spirit: 4-15 January 2015

A first for Neshama Life in association with the Jewish National Fund, this 12 day tour will include traveling to spiritual, holy sites around Israel. From the desert landscape in the south, to historical Jerusalem and its surrounds, to the Galillee and Tsfat in the north. The tour will be led by Australian Rabbi and kabbalist Orna Triguboff, accompanied by a local Israeli educational tour guide. At each destination participants will learn with different renowned teachers, specialising in Kabbalah, meditation, art, yoga, tai chi and Jewish spiritual music.
The trip is open to people from all backgrounds and all levels of knowledge. It is suitable for those who have never traveled to Israel before and also for those who have been there many times.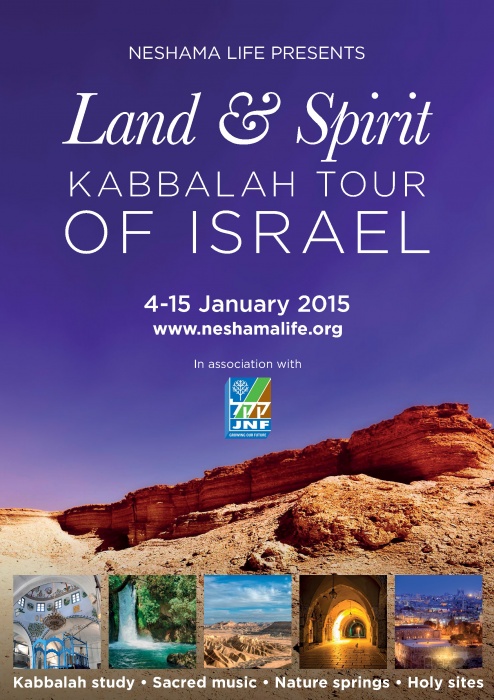 Bookings & Information
Cost includes shared accommodation, meals, tours and travel

Early bird: $3,250 USD by 1 September 2014
Full price: $3,680 USD by 23 October 2014
For private room add $570 USD.
Contact us to express your interest, places are limited.
Contact (remove XX) info XX @neshamalife XX .org

Destinations
Jerusalem – the holy city
Tsfat – city of the mystics
Ein Gedi – natural oasis
Mount Masada – archeological site
Dead Sea - healing waters
Kineret - Sea of Galilee
Mount Meron – sacred forest of sages
Ramon Crater – desert expanse
Arugot Wadi-Gorge – desert waterfalls
Hula Valley - bird sanctuary
Banyas - water spring
Tsipori - Ancient synagouge
Teachers
Joining us on the journey will be these special guests…
Michael Kagan
Jewish meditation and self-development teacher
Author of Holistic Hagadah and member of Nava Tehila Community
Avraham Leader
Kabbalah teacher
Editor of an edition of Sefer Yetsira (Book of Formation)
Dr. Melila Hellner-Eshed
Kabbalah teacher
Hartman Institute, Jerusalem
Author of A River Issues from Eden
David Friedman
Kabbalah artist and meditation teacher
Netanel Goldberg
Spiritual musician
Gad Levy
Kabbalah tai chi teacher
Dianne Bloomfield
Torah yoga teacher
Nava Tehilla Ensemble
Kabbalah band and chant leaders
Rabbi Ruth Kagan
Jewish Renewal rabbi and spiritual teacher
Rabbi James Moshe Maisels
Jewish mindfulness meditation teacher
Or Halev and Pardes Institute, Jerusalem
Rav Yitzhak Even Shays
Teacher of Jewish mysticism
Rav Kook Institute, Jerusalem
Gabriel Meyer Halevy
Musician and chant leader
Downloads: