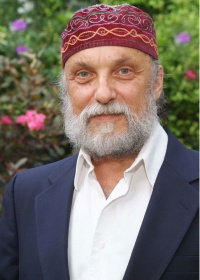 Chazzan Robert Esformes - Sydney Workshops
01/04/2011
Sydney, 1-11 April 2011
Neshama Life recommends...
Chazzan Robert Esformes has served as synagogue cantor, concert performer, spiritual counsellor, meditation teacher and Jewish educator for many years. He travels widely, offering visiting artist/scholar programs, Shabbatons, workshops on Jewish music and meditation, retreat experiences, ecumenical events and individual spiritual direction. His knowledge of Ladino (Spanish/Jewish) music is renowned. He also has significant experience in a range of meditation and spiritual practises - both within and beyond his Jewish identity.
"I look forward to being again in the good company of friends and fellow travelers Downunder for continuing explorations of the treasures of our faith."
PROGRAMME - APRIL 2011

Kabbalat Shabbat
Fri 1 April, 6.30– 7.30pm, Main Sanctuary
Cantor Robert Esformes will bring his inspiring voice and presence to enrich our regular Kabbalat Shabbat experience.
Showcase Renewal Service
Sat 2 April, 10am – 12noon, Education Centre (followed by pot luck vegetarian lunch)
Cantor Robert Esformes will lead us in a Jewish Renewal Shabbat celebration with his glorious voice, guitar accompaniment, inspiring teaching and engaging kavannah. An opportunity to participate in soulful chanting, deep davvening, living learning and guided meditation to immerse ourselves in Shabbat's many blessings. All welcome.
Shabbaton: Weaving the Threads
Sat 2 April, 2-5pm, Education Centre $55/$50
Many of us have explored spiritual paths other than Judaism. Yet, while gathering treasures from far afield, our connection with the Jewish heritage has never been lost. In this informal gathering, we will consider how these two selves can exist together harmoniously.
A Concert of Hebrew Psalms and Ladino Love Songs
Sunday 3 April 4pm-6pm Emanuel Synagogue $30/$25*
Supported by Emanuel Synagogue Cultural Fund
Jewish Meditation Practise
Wed 6 April 7.30-9.00pm Neuweg @ Emanuel by donation [$10]
We will engage in several meditation exercises, simple yet powerful in their ability to develop consciousness beyond ordinary mind. There will be time for Q & A about personal practices.
Kabbalah of the Tree of Life
Thurs 7 April 7-9.30pm Education Centre $50/$45
Central to the study of Kabbalah is the symbol of the Tree of Life, an essentially simple form which is also an insightful diagram of the dimensions of the Universe and its microcosm: our world of lived experience.
Weekend Retreat (Non-residential)
Sat & Sun 9-10 April, 10am-4pm, Education Centre $180/$160
Coming together for two days of deep immersion in Jewish spiritual forms, we will explore the practices of prayer, sacred chant, meditation, basic text study and holy conversation.
Sacred Voice Workshop
Mon 11 April 7-9.30pm Neuweg Sanctuary @ Emanuel $45/$40
An exploration of the world of sacred sound. Experimenting with breath and primary vocal expression, toning circles and simple improvisational exercises, we will join the soul's subtle sounding to the ground of our everyday voices. No prior experience required.