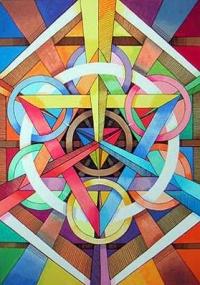 Monthly Kabbalah Course 2011
10/02/2011
Sydney, Feb-Dec 2011
This monthly Kabbalah Course, unique to Australia, will be conducted by experienced teacher and Kabbalah scholar Dr. Orna Triguboff and her inspiring special guests.
Each class includes teaching, text study and meditation and will be taught by Dr. Rabbi Orna Triguboff and special guests.
All are welcome to join this course, and people can choose to attend one class or all. For those who would like to come to all ten classes offered in 2011, you can choose to do some extra reading and assignments and receive a certificate from Neshama Life.
Here are the details of the first three classes:
Isaac Luria and Tsfat in 16th Century: teaching and meditation – Thursday 10 Feb, 7-9pm
In this class we explore the fascinating Golden Age of Kabbalah in the Galilee in the 16th Century and key teachings from Rabbi Isaac Luria, the Ari.
What is Kabbalah – an Overview – Thursday 17 March, 7-9pm
During this class we will explore the main streams of Kabbalah throughout history – finding Kabbalah's roots in ancient sources through to its main teachers today.
Kabbalah of the Tree of Life – Thursday 7 April, 7-9:30pm
This class will be taught by Chazzan Robert Esformes – a visiting Kabbalah teacher and spiritual singer from the USA. The class will focus on the symbol of the Tree of Life, exploring the ten aspects of Essential Being. (special cost of $50)
Click here to read more about the meaning of Kabbalah
Dates: Monthly, Commencing 10th February
Attendees welcome to all classes or single classes
Time: 7:00 - 9:00pm
Location: Sydney
Costs: $10 per class (except April class) / $50 for special April class
Bookings & Information:
For more informatiom regarding this unique course, please email (remove XX) info XX @neshamalife XX .org
Event Details
Date
Monthly,
Commencing 10th February
Time
7:00 - 9:00pm
Location
Sydney
Costs
$10 per class (except April class)
$50 for special April class
Bookings & Information
(remove XX) info XX @neshamalife XX .org