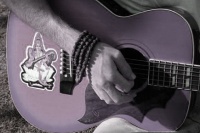 Dove & the Neshama Band live at Shir Madness
15/08/2010
Bondi Pavillion
Introducing Dove & the Neshama Band, a brand new collaboration of 6 very talented musicians, presented by Neshama Life.
Come along to the Shir Madness Music Festival on Sun 15th August at Bondi Pavillion, where The Dav Neshama Band will be performing for the VERY FIRST TIME at 2pm!
Your ticket to the Shir Madness festival will include an entertaining day of 35 bands over 4 stages, market and food stalls and kid's activities, from 11am till 10pm.
To purchase tickets please go to the Shir Madness website - hurry, tickets are selling fast!
Event Details
Date
Sun 15 August
Time
2.00pm
Place
Bondi Pavillion, Sydney
Cost
$50 adult / $35 concession
$60 on the day